Hot Water Heater Maintenance,
Repair and Replacement
You depend on your water heater to deliver hot water for a wide array of daily needs. Don't let a malfunctioning gas or electric hot water heater drive up your energy bill. Our expert plumbers at D&G Heating & Cooling in Livonia, Michigan, can assess your hot water heater and determine your maintenance, repair or replacement needs.
Hot Water Heaters
We carry a full line of energy efficient residential and commercial water heaters and accessories from State. You can count on reliable service from an ENERGY STAR® qualified State water heater that's built to last. We help you choose the right size unit based on your water usage to provide fast hot water recovery and energy savings. We offer gas and electric models, including tank and tankless units for residential clients and high-performance models across a range of technologies for commercial applications.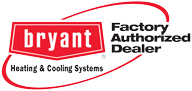 D&G Heating and Cooling represents the industry leader in home comfort. With more than 100 years of experience, Bryant manufactures a full range of durable heating and cooling systems.
Click here to learn more about
Bryant Products

D&G Heating and Cooling
offers a complete line of:
Furnaces
(gas and electric)
Air conditioners
Humidifiers
Indoor air quality systems
Controls and
thermostats
Hot water
heaters
Boilers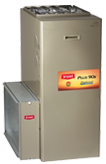 Hot Water Heater Installation
Every hot water heater installation is unique. Our certified installers are factory trained to install your State water heater and show you how to operate the user-friendly features. We remove your old unit and dispose of it safely and our licensed plumbers properly installs your new water heater to code to ensure the safety of your home and family.
Hot Water Heater Maintenance
Hot water heaters need regular maintenance to operate safely and efficiently. Schedule a maintenance program with D&G to detect minor issues and prevent unexpected leaks and other costly repairs. Routine maintenance also helps extend the life of your appliance. Suggested maintenance varies based on your unit, water quality, water heater location and manufacturer recommendations.
Hot Water Heater Repair
Because you use your hot water heater every day, expect to perform a certain amount of repairs as it ages. Call us for service if your pilot won't light or your hot water heater:
Is leaking
Takes a long time to heat water
Isn't supplying adequate hot water
Makes clanking noises
Produces rusty water
We're second-to-none for water heater repair, but when repair is no longer an option, we help you choose a replacement model that meets federally mandated energy efficiency standards.
Get Expert Sales And Service In Livonia
No matter your hot water heater needs, our licensed, bonded and insured technicians provide exceptional sales and service for your home or business. We've proudly served the Detroit metro, including Livonia, Farmington, Novi, Northville and Plymouth, since 1954. Contact us at 248-476-7022 to schedule your installation, maintenance or repair today.